Holiday Home in Cortona: papa' Giuseppe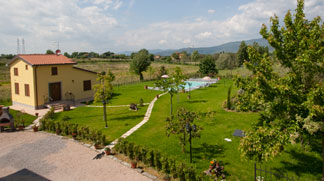 Holiday home "Papà Giuseppe" is located in San Lorenzo di Cortona, Tuscany. After spending there her childhood and adolescence building these tourist apartments was something of a dream come true for owner Martina.

In 2009 Martina and her mother Annunziata decided to set about renovating their old country-house, a place which their most cherished memories were deeply attached to. As a token of their loving memory and gratitude the home was named after beloved father Giuseppe

And so was born holiday home "Papà Giuseppe"; the property was completely refursbished and converted from the old contry-house. The house consists of a main building housing the reception, 4 apartments as well as a guest houses spreading over two floors. Nestled in the verdant Tuscan countryside, surrounded by green fields and gentle hills our holiday home is located only 1 ½ miles from the charming town of Cortona, a superb town of art and history anciently built by the Etruscans. The old stables, the old barn, the former cellar and the bedrooms located on the upper floor were converted into cosy apartments, well-lit by large windows looking out onto the surrounding countryside that takes on new colours as the seasons alternate. Each holiday apartment was named after its original intended use: "La Stalla" (the stable), "La Cantina" (the cellar), "La Terrazza" (the terrace), "La Colombaia" (the dovecote) and "Il Fienile" (the barn). Only a few yards from the apartments, set in beautiful garden surroundings with laurel hedging and sweet-smelling lavender bushes a beautiful swimming-pool, specially reserved for their enjoyment, invites guests to lie back and relax.  Like all apartments the swimming-pool too offers stunning views over the enchanting town of Cortona.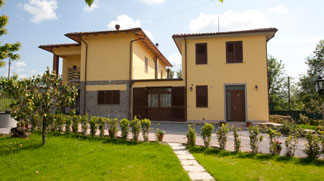 The ground floor of the main building houses a cosy reception area with open-fireplace painted in warm colours and furnished with comfortable sofas where guests can meet and relax. A relaxed atmosphere, personalised service and the friendliness of Martina will make you feel immediately at home and leave you with a true sense of Tuscan hospitality.

A privileged location in close proximity to all major tourist destinations makes our holiday home  an ideal base for day trips to Siena, Florence, Perugia, Arezzo, Cortona as well as charming medieval villages and towns such as Assisi, Gubbio, Montepulciano, Pienza , Lucignano. Our holiday home is conveniently located only 1 mile from the Perugia-Siena toll-free speedway and 6 miles from the A1 highway (Florence- Roma).
The Apartments
All of our comfortable apartments are equipped with electric oven, refrigerator with deep freeze compartment, satellite TV, heating system and private entrance.
The main building of Casa vacanze Cortona consists of four apartments:
The left-hand side of the ground-floor houses apartments La Stalla and La Cantina; the upper floor houses apartment La Colombaia. Apartment La Terrazza, spreading over two floors, is located on the right-hand side of the building.


Shared facilities: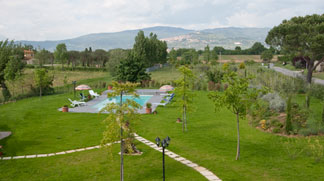 - Set in beautiful garden surroundings the beautiful 32x16 foot swiming-pool is located right outside the apartments. Our holiday home is set against a breath-taking backdrop of golden fields of wheat and wide expanses of bright yellow sunflowers. The garden features a practical barbecue for guests to enjoy lovely outdoor dinners in the warm summer nights.  

 - The washing-machine room is accessed by means of a short flight of steps by the pool and is shared by all guests.

 - Ample private parking is available to our guests.